4

Jun, 2022
Linkedin Marketing Agency In India – Hk Digi Marketing
Linkedin is a superb platform for professionals to increase their connections and advertise their companies. On Linkedin, there are 700 plus million registered users among them 63 million users are the CEO, President, Director, Founder, and cofounder of the company. They connected and share their thoughts. As a Linkedin marketing agency, we have a very experienced team who knows Linkedin b2b marketing, lead generation for your business, and bringing organic engagement on your business page.
Linkedin was launched on May 5, 2003, and it is available in 24 languages across the world in more than 200 countries. Linkedin users are 57% men and 43% women.
To gain popularity and engagement on your posts try to learn the algorithm of Linkedin
Whether a company looking for lead generation for their business or personal branding on LinkedIn you should be aware of its algorithm. As a LinkedIn marketing agency, we advise you
Create your own content, not copy and paste the content from other websites.
Don't share your post's link to anyone or groups it restricts the reach.
Don't sell your product or services directly.
Apart from your business post trending topics, memes, and share information.
Apart from your business post trending topics, memes, and share information.
Keep consistency and connect with other users, comment and answer their doubts.
Develop a better way to deal with rude and bad comments.
Linkedin itself says to tag your audience to start a conversation.
Best Linkedin Marketing Services In India
As a Linkedin marketing services provider we serve our clients with a guarantee that we help businesses to grow fast and increase the popularity of brands among customers. On daily basis, we create content for your business, post on Linkedin, and engage with customers. Then join some groups, increase connections, and from the first day, you will realize the growth. Contact HK Digi Marketing for the growth of your business in a short span of time. Linkedin website design for those users who is professional and looking to build connection across the world.
Take a look at my post's view and engagement and how it can help to generate business and increase awareness among my clients.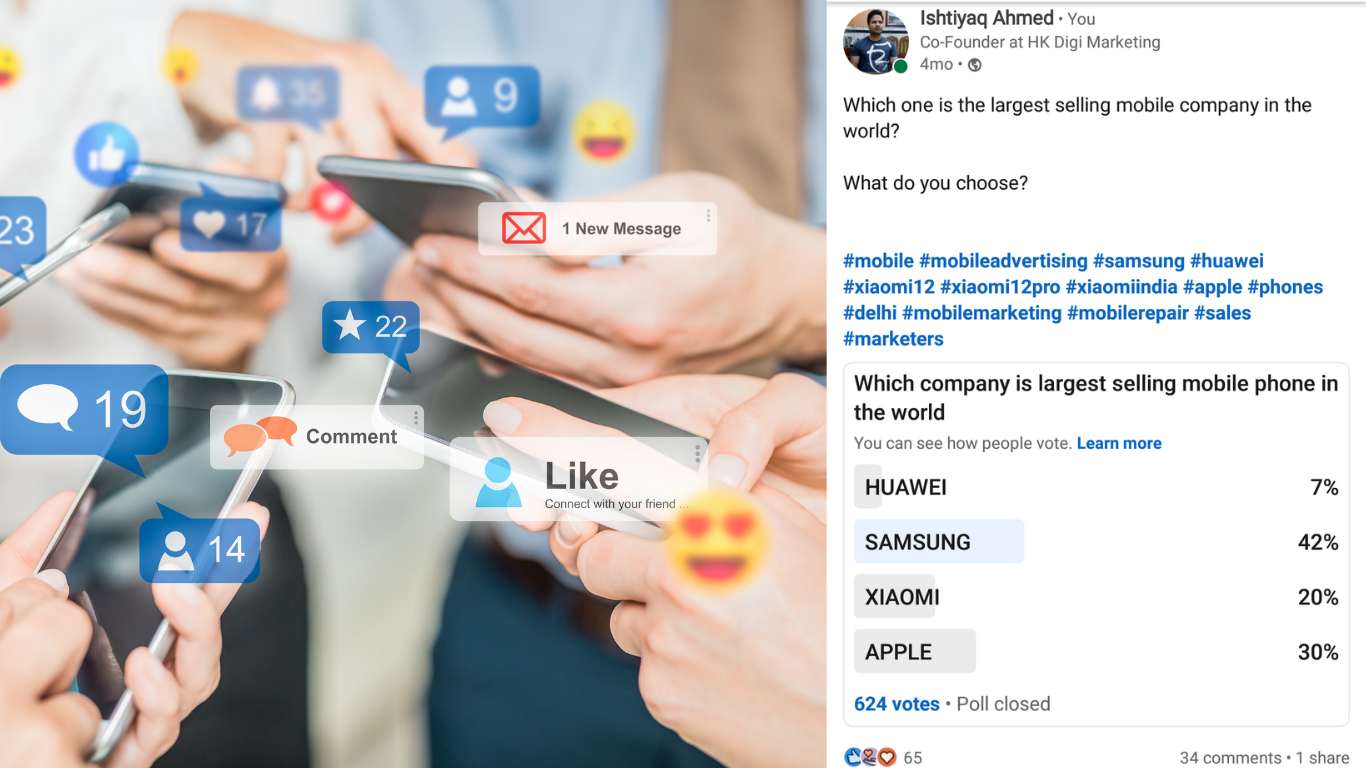 80% of marketers say Linkedin is an effective platform for generating leads and growing your business. Company founders, CEO, and Managers are so much active here and prefer to connect with other users. This social media website can give you recognition in the market as well as better sales volume.
There are large numbers of companies who offer the Linkedin marketing services in India but HK Digi Marketing is served with commitment and guarantee to be a brand on Linkedin.
Linkedin B2B Marketing
To create awareness in the B2B market, it's very essential to educate your potential customers about your brand, product, and services. Linkedin B2B marketing is the platform where you can raise your brand visibility. First of all, when you create your business page on Linkedin put all business details precisely.
The first line of the company page should be eye catchy and grab the attention of visitors. And then the brand's description in detail about your product category, specification, and product benefits. from there visitors land on your website.
Linkedin B2B marketing is very similar to B2C marketing in many ways. Because customers always have priority to buy from a reputed company. So Linkedin helps you to gain popularity, and credibility and build trust among your buyers. Share customer testimonial, review, and comment with your followers. This will help you to generate leads for your business.
As a Linkedin marketing agency, it is our responsibility to share valid information with the audience. That information added value and peoples take you seriously.